Driving is fun for me and a great stress-buster ever since I discovered it (discovered… stress). And throughout the day I at least check one automobile site besides being a huge follower of Team-BHP since last 2-3 years now; and amongst the portals, Carwale.
While talking with a friend who was trying to finalize a car to buy, I realized there such few instances of how differently people think and how conveniently we develop an online product.
And I checked multiple sites, screenshots below.
Most of car portals provide users only 2 options – Select Cars by Manufacturer or Select Price Range. With some noted differentiations by Carwale & Gaadi that have tools to recommendation a car.
Just one basic flaw in this which I realized post my conversation with a friend who said it straight – "I can spend up to Rs. 12000/- per month in the EMI."
This was exactly that I thought while I purchased my car. Wouldn't it hold true for most of the middle-class Indians who thrive on hatchbacks and mid-size sedans as well? Over 80% of new automobile purchases in this segment are done through Car Loans paid in EMIs.
Could the right product approach for Indian price conscious market be this as well?
o    Allow users option to enter the amount they can spend on EMI per month
o    Change EMI period and Down payment and show relevant options to users.
Something like this: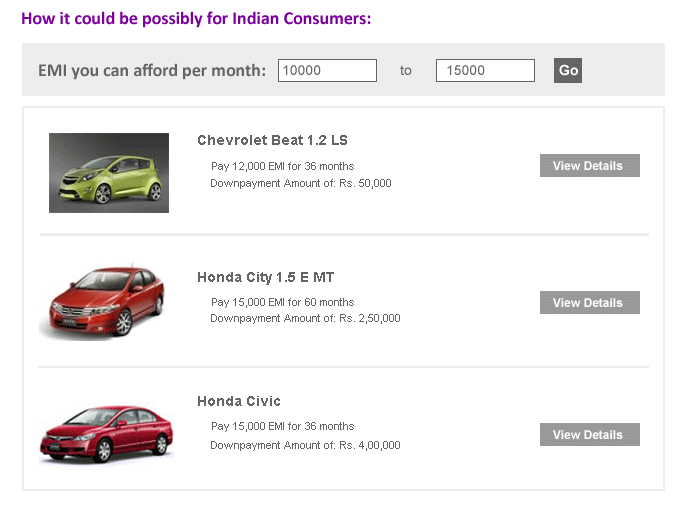 The reason I like this approach is that's the way consumers think while buying, and it also allows consumers to see more options when they stretch their budget

Everyone wants to have a have a piece of German Engineering, but what they buy is different alright!
PS: Ignore my design skills.